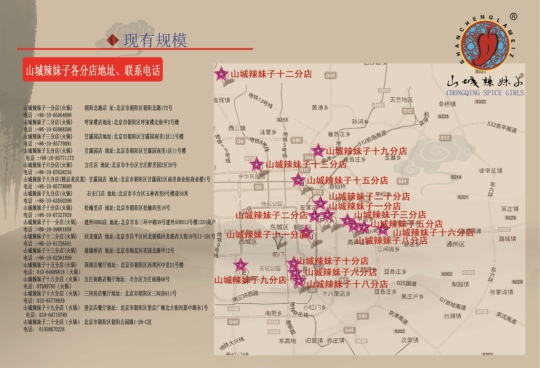 Beijing SHANCHENGLAMEIZI Dining Service Co., Ltd. was founded in the early nineties of the last century. After more than 20 years of hard work, from a small restaurant in which only ten tables were set, it has grown into a chain restaurant focusing on authentic Chongqing hot pot with mixed soup base. There are now almost a thousand staff and twenty branch restaurants with gorgeous decorations.
Our secret recipes of the soup base all come from Chongqing, so that our customers can taste the authentic flavor of hot pot from that mountain city, which is numbing, spicy, refreshing and delicious. Apart from that, ten kinds of free special snacks also attracted many diners. SHANCHENGLAMEIZI is a public-oriented restaurant in which ordinary families can taste authentic and delicious Chongqing hot pot here.
With its business management focusing on "integrity", SHANCHENGLAMEIZI has become one of the most reliable brands in China. It has won multiple honors and awards, such as "Famous Hot Pot of China", "Member of China Cuisine Association", "Famous Restaurant of China", "Quality Integrity Restaurant", "China Dining Industry Integrity Management Example Enterprise", "National Green Dining Enterprise" and so on.